This essay is part of Marilyn DuHamel's Wayfinder Series about people, art works, and events that can help us find our way in these lost times.
The Muse recently revealed herself in the Cabrillo Festival of Contemporary Music, a sumptuous Dionysian feast lasting fourteen days in a humble temple, better known as the Santa Cruz Civic Auditorium. For the last six years I've waded in deeper and deeper until I am now fully submerged, attending all of the open rehearsals, workshops and informative talks over two weeks that culminate in two weekends of stunning performances.
I'm not an obvious convert. I have no musical training. Contemporary music is the cutting edge of classical music, often utilizing non-traditional scales, complex rhythms and elements of jazz, rock and world music. It is demanding – sometimes haunting or discordant, always complex. How has this event become the two most eagerly anticipated weeks of my year? What is this magic?
I've always been drawn to the creative process, and during the Festival I get to witness a musical universe that previously has been hidden to me. I arrive early to rehearsals to get a front row seat so I won't miss a word as renowned composers confer with our truly gifted and delightful Romanian-born conductor, Cristi Macelaru. He guides the talented orchestra to nuanced cohesion, the long demanding hours spiced with humor and insights.
I delight in paradox. My brain synapses fire rapidly as I attempt to follow complicated thematic progressions, while I simultaneously succumb to something absolutely primal. Humans have been making music together forever. Being part of this evolving, participatory process feeds something deep in my bones.
I am a therapist and a writer, happily immersed in both pursuits. What a refreshing vacation to shift from private dialogues and solitary typing to a massive collective endeavor. I leave my computer and busy brain behind and surrender, washed over with notes and feelings as each work evolves.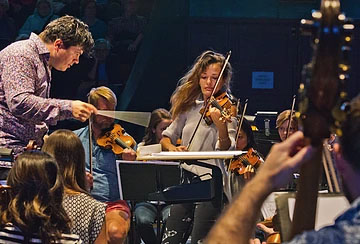 In a sense, the daily rehearsals become the hunters' campfire, the village square. Faces become familiar, we save each other seats, we excitedly compare impressions during breaks. We become a tribe as we absorb the humility and generosity of the "elders" (though many of the composers and musicians are half my age) and become generators of inclusion and goodwill ourselves. As I soar home each night, filled with sounds and connection, I want to call out to my own scattered tribe of friends, and even strangers on the street – Come join us!
I increasingly experience the Festival as a social paradigm that is so desperately needed in these challenging times. Their motto is "Music of our time, for our time," and this is reflected in the diversity of participating artists and the relevance of content in many chosen pieces. For example, Supreme Court Justice Ruth Bader Ginsburg was the inspiration for Kristin Kuster's World Premiere of "When There Are Nine." The ninth movement is entitled "A Push-up is a Push-up is a Push-up." This year, nine of the fourteen composers are women, an impressive ratio in the still male-dominated world of classical music.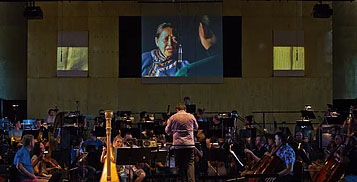 Some works are abstract and compact, others incredibly ambitious, such as "Nu Shu: The Secret Songs of Women." The composer, Tan Dun, spent years researching, recording and filming women from his native province, Hu Nan, as they sang in a disappearing language developed by women over centuries. We listen as their recorded sorrowful songs seamlessly intertwine with the orchestra as we watch Tan Dun's microfilms depict preparations for a very young bride to leave her family behind. Our tears mix with the women's as the percussive section drums huge bowls of water. I am transported. I am now part of their village.
The Festival's inspirational paradigm, however, is as much about process as content. There is a commitment to make this Festival available to everyone. Other than the final performances, most all events are free. There is a Pay As You Can Community Night Performance designed to introduce the many talented performers to the public. Afterwards we're all invited to mill abo›ut with the conductor, musicians, directors and staff. I get to ask endless naïve questions and express my delight and gratitude to these dedicated musicians who return year after year.
Regardless of great professional success, I'm repeatedly struck that there are no posturing egos in sight, no hierarchical divisions. During every event, I witness collaboration, mutual respect and expression of gratitude – the best of what is collectively possible between humans. It gives me hope that maybe our daily interactions and political arena could learn to follow suit.
On the final weekend performances, it was with both excitement and a tinge of sadness that my now expanded cadre of festival friends sat in our seats for the final weekend performances, knowing each culmination contained an ending. As Cristi lowered his baton each night, the auditorium walls were barely able to contain the exuberant applause and cheering. A true love fest.
This year I deepened my "vows." A week after the musicians have packed up and gone back to their orchestras all over the world, the local radio station KALW broadcasted the four nights. For the first time in my six years of increasing involvement, I sat in my darkened living room, volume turned high, and listened all over again. I was ecstatically drenched in now familiar musical scores and sensory memories.
Only forty-six weeks until it all begins once more.
Marilyn DuHamel is a psychotherapist and writer living in the beautiful Santa Cruz Mountains. Besides exploring her fascination with the creative process, she often writes out of her love and concern for the natural world. You can read more of her work on her blog, Earth Dialogues, at marilynduhamel.com
Have a piece of your own writing or Festival-inspired work you would like to share? Let us know!Ma